Bringing My Work Home With Me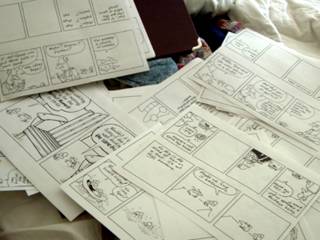 Some people bring their work home with them. I'm spared that chore since I work at home: my office is my bedroom -- the wall with a window -- and my bed is my work station. I write on a lapdesk. I prop myself up with five or six pillows. I use bond paper printed with strip panels.
And because that's a lot of white to stare at, and my work station has fitted sheets, and the paper is toasty warm when I pull them from the printer, I also nap.
I love naps. Partly because I'm lazy. And partly because napping is the cusp between dreams and reality. Creativity is dancing -- or sleepwalking -- between the two.
Another bonus: when reading my work puts me to sleep, I can blame it on the bed.